Miami Beach is set to approve an agreement with a Digital Media Kiosk vendor on Wednesday.
Back in April 2022, the City Commission, after receiving an unsolicited proposal, issued a Request for Proposal (RFP) for these devices, which are intended to be placed onto public sidewalks in South Beach.
With less than 24 hours until the Commission meeting, the details including terms of the agreement, a memorandum from the City Manager, and the resolution to be passed have not been posted.
The details are still unknown, but based on a memo from December, there could be as many as 50 units placed throughout Miami Beach's most popular neighborhoods. It is also unclear to what extent the already crowded pedestrian paths would be impacted.
The primary purpose of the kiosks is to display advertising, generating revenue for the operator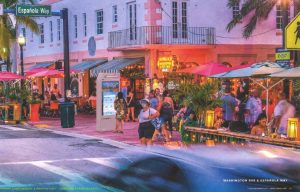 Images obtained from submission of highest-rank proposal