Bicycle lane separators to be removed
OCEAN DRIVE
SAFETY UPDATE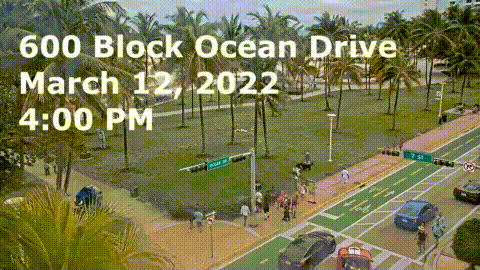 This week, the "armadillo" bicycle lane separators, that keep drivers out of the wildly* successful green bicycle lane on Ocean Drive, will be removed.
Just nine months ago, in March 2022, they were installed, after community concerns about safety.
Now, this week, we've been told the bicycle lane protection will be removed, for a minimum of three weeks, during two upcoming special events: 1) The Ocean Drive Association's New Year's weekend cafe expansion onto the street and 2) Miami Design Preservation League's Art Deco Weekend, taking place January 13-15.
It's critical that something be done in the interim. Relying on police enforcement has previously been proven ineffective. We fear, without an interim measure, someone will be hurt. And the city could be liable.
A family, including young children, riding on Ocean Drive
What we're asking for:
Whenever armadillos must be removed, cones — at a minimum, are placed in the middle of the buffer
Sufficient advance notice should be provided — including signage along Ocean Drive
Consider alternatives prior to the costly and time/labor intensive removal of armdillos
Going forward, the special event process should take a close look at bicycle & pedestrian impacts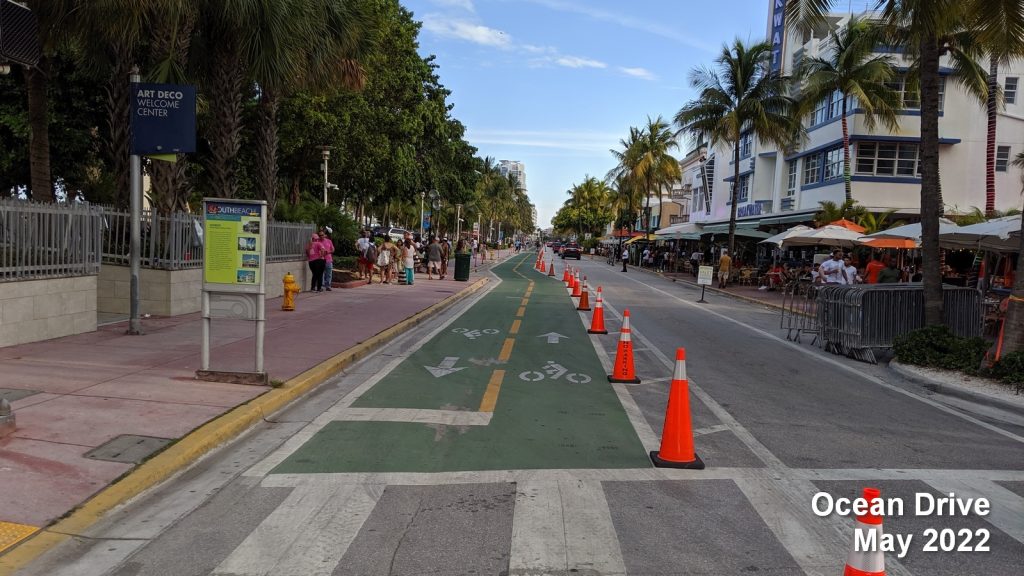 Cones have been successfully used as a temporary measure. In May, during Memorial Day Weekend, as part of the load in/out for the Air & Sea Show Tank Exhibit, the armadillos were removed from one block. Cones were placed in the buffer and were successful at keeping drivers out. These are easy to maintain and should be the minimum until the armadillos are reinstalled early next year.
---
Our city leaders continue to say they wish to be a less car-centric city. The most effective way is by building a network of safe and comfortable bicycle/micromobility lanes throughout Miami Beach.
Please consider sending a short email message to city leaders and let them know you value safety. Every email they receive is critical. Please, take a few minutes, and make sure they hear concerns from residents.
Please, share your concerns!
They deserve to hear from impacted residents. In addition, thousands of visitors safely enjoy Ocean Drive's bike lane every week but don't have a voice.

DanGelber@miamibeachfl.gov;
RickyArriola@miamibeachfl.gov;
DavidRichardson@miamibeachfl.gov;
Alex@miamibeachfl.gov;
Kristen@miamibeachfl.gov;
LauraDominguez@miamibeachfl.gov;
StevenMeiner@miamibeachfl.gov;
AlinaHudak@miamibeachfl.gov;
JoseGonzalez@miamibeachfl.gov;
JoeGomez@miamibeachfl.gov;
RickelleWilliams@miamibeachfl.gov;
KevinPulido@miamibeachfl.gov;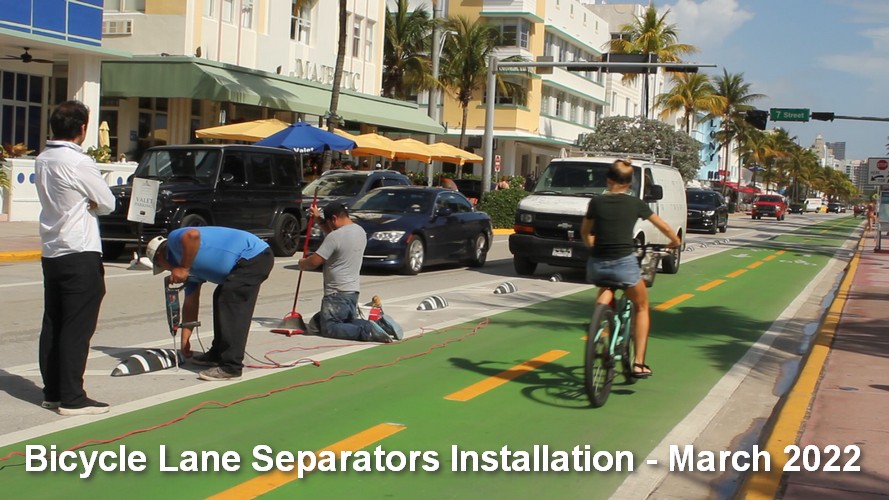 * We're told Miami Beach has not collected data on the usage of the 1-mile long protected bicycle/micromobility lane on Ocean Drive from 5 to 15 Streets. We estimate between 1,000 and 2,000 enjoy it on bike, scooter, and skates every day. This data is crucial as the GO-Bond funded project to rebuild this stretch of Ocean Drive enters the design phase.